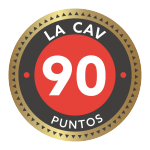 2018 Family Reserve · La Cav · 90 Pts. | OPEN
---
Family Reserve · de Gras
VINEYARD
Variety: 45% Cabernet Sauvignon, 25% Syrah, 20% Carmenere & 10% Malbec
D. O.: Colchagua Valley
Climate: Mediterranean climate, with four clearly defined seasons and significant temperature differences between day and night.
Soils: Deep soil, alluvial in nature, with clay.
TASTING NOTED
Colour: This wine is an intense ruby-red colour with violet hues.
Aromas: The nose is very pleasant with the aromas of ripe red fruit predominating over the notes from the ageing.
Palate: The delicious texture of juicy, well-rounded tannins is a great accompaniment to the red fruit that comes through again in the mouth.
SERVING SUGGESTION
This is a very versatile wine that will pair well with a wide range of foods containing red or white meat, as well as pasta dishes.
---