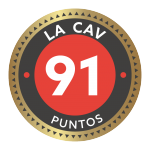 2019 Chardonnay · La Cav · 91 Pts. | OPEN

---
Chardonnay · Reserva | de Gras
VINEYARD
Variety: 100% Chardonnay
D. O.: Colchagua Valley
Climate: Mediterranean climate, with four clearly defined seasons and significant temperature differences between day and night.
Soils: The soil has limey-clay characteristics.
TASTING NOTES
Colour: Bright, straw yellow.
Aromas: Intense aromas of tropical fruit, with ripe pineapple along with subtle notes of toast and honey in the finish.
Palate: Medium-bodied with a creamy texture and good acidity, this wine has predominant flavours of peach and melon that linger on the palate.
SERVING SUGGESTION
This wine pairs perfectly with creamy pasta dishes, as well as oily fish.